From space division to stress relief, Biophilia has a plethora of uses and benefits. Incorporating plants in any capacity is proven to relieve stress and increase overall employee wellbeing! Here are our top 3 ways to incorporate biophilia in your office!
1. Planters
Allsteel Park Planter
Park introduces new ways to create active work zones in sought-after, open collaborative areas through varied seating heights and table levels, movable planters, and technology support. The Park Planter has a purposeful function, responding to the need privacy and division of space. When paired together with seating and workstations, Park works to incorporate biophilia and privacy that everyone can appreciate.
https://www.allsteeloffice.com/products/storage/shelves-bins/park-planter
OFS Intermix Planter
OFS' planter is part of their Intermix product line, offering an easy way to incorporate planters throughout your OFS designed space or as a standalone option. "Using life as our inspiration, create spaces that accommodate the fluid movement of information and allow people to be comfortable and productive. Intermix Planters offers the workspaces that make ideas collide more often."
https://ofs.com/products/accessories/planters/intermix-planter
Magneson Group KASKAD Planters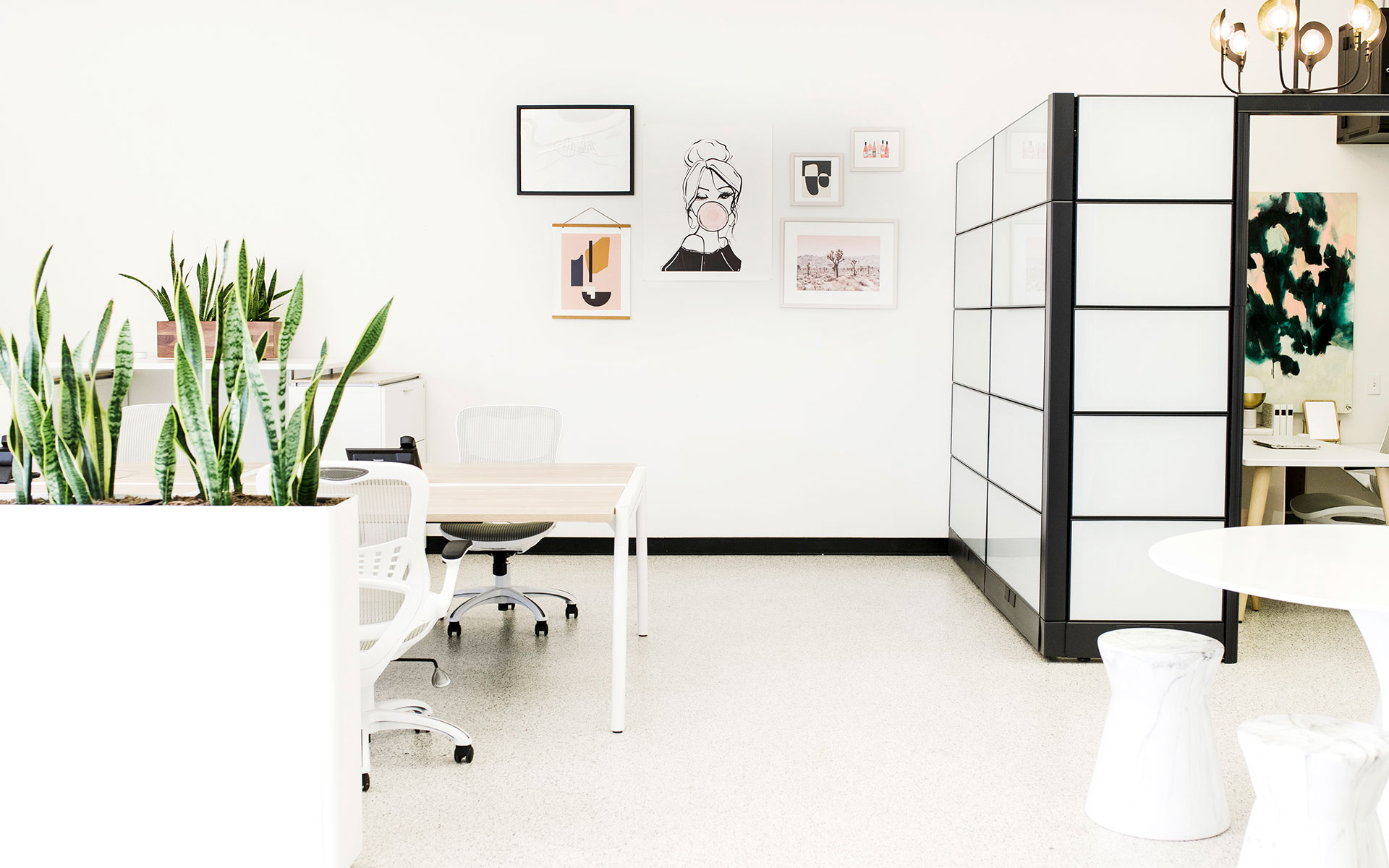 KASKAD is a family of planters that brings modularity, design, and elegance to any space. Designed to stand alone or work together in combination, KASKAD serves as a flexible and highly adaptable planter solution. KASKAD is manufactured from powder-coat painted steel and available in 3 heights and 5 unique shapes – 1 square, 3 rectilinear, and 1 parallelogram. Available in 3 finish colors – Textured White, Textured Silver, and Textured Bronze – all KASKAD units come standard with adjustable glides and a removable liner for plant material. KASKAD planters are for indoor use. High units are ideal for dividing interior spaces in a unique and interesting way.
Planters are a great way to incorporate biophilia but don't offer enough privacy for everyone. If you need space division and more privacy, check out our architectural products, here: Walls.
2. Biophilia
Nevins Bio Canvas
Bio Canvas brings nature inside. The collection consists of preserved natural materials that require no maintenance and offer a substantial benefit for your workspace. It uses lightweight frames to mount biophilic materials to walls or the Bio Canvas Room Dividers. The two-part, easy snap-on/snap-off patent-pending frame design enables the user to interchange panel inserts with ease. The panel inserts consist of acoustic moss, sustainable poplar bark, and light stone.
https://nevins.co/en-us/Products/Bio-Canvas/Application-Ideas
Scandinavian Pixel
Pixel is a patented, high-class sound absorber made from natural, hand-picked Scandinavian Reindeer Moss. The Pixel element is designed to cover large surface areas with maximum flexibility in shape and design. Each Pixel element retains its colors, is fire-proof, absorbs and releases humidity to remain soft, and is completely maintenance-free. Like all Reindeer Moss products, Pixels are handmade, natural, and made in Sweden.
Claridge MIX Biophilic Mobile
Available on the MIX Contemporary and MIX Industrial Mobiles, these all-natural biophilic panels retain their vibrant, fresh-cut look for 10+ years, giving designers a creative, long-lasting option for nature-themed interiors. These all-natural preserved plants do not require water, sunlight, soil, misting, or irrigation. MIX Mobile allows you to incorporate biophilia everywhere!
3. Office Plants
Foliage Design Systems of Atlanta
Foliage Design Systems of Atlanta works with each client individually to construct a beautiful, long-lasting indoor plantscape that truly adds to the business. With a wide selection of interior office plants, trees, vines, and flowers, backed by our years of experience in interior design, our plantscaping company based can help you create any indoor environment at your location in Atlanta, Georgia.

https://www.foliagedesignatlanta.com/
Phone: 770-451-0855
Email: fdsatlanta@foliagedesign.com
Address: 5589 New Peachtree Rd. Chamblee, GA 30341
Flowering Events
Since 2000 Atlanta's full-service florist, Flowering Events has followed its steadfast mission of creating beauty with flowers by delivering elegant designs that fulfill the dreams and needs of the clients it serves. From a single, beautiful arrangement to cheer a friend to a corporate event with thousands of flowers, we strive to make each experience a memorable one. Our client list includes the Who's Who of Atlanta's hotels, corporate clients, entertainment and hospitality industries.

https://floweringevents.com/
Phone: 404-254-4780
Email: lotus@floweringevents.com
Address: 684 Antone St. Suite 105, Atlanta, GA 30318